Listening to What He Does
Jun 25
When I was young and dating, (back in the 80s!) I was big on listening to what a young man told me. I believed what he said unless I caught him in a lie. If he said he wasn't good enough for me, then I figured he was telling the truth so I dumped him. If I caught him in a blatant lie then that was the end. I don't like liars.
When I was dating my ex-husband I thought he was truthful. He told me some things that sounded like possible lies, but then I found out they were real. Often exaggerations, but real.
Exaggerations presented with a cheeky grin and a flourish don't seem like lies.
So I dated and eventually married this charming young man who liked to exaggerate. And for years I never caught him in a lie.
I finally learned that he would regularly make up plausible explanations when he didn't know what was true. His explanations were usually about obscure scientific information and it didn't really impact my life, so I never noticed it was a lie. He would lie about his plans, thoughts, and motivations. You can't possible check up on someone's thought life. He even lied about his religious beliefs.
Then one day he changed. Perhaps he was tired of hiding his true self. Perhaps it was a midlife crisis. All I know for sure is that he started telling the truth about a few things.
I've never really felt empathy. I don't know what that's like. 
Here's another truth that came out in marriage counseling…
I didn't forget Elizabeth's birthday. I ignored it because I was angry at her.
Of course those truths were surrounded by lies and exaggerations. He may have Asperger's Syndrome, so he shouldn't be able to feel empathy. It's not his fault. He had valid and important reasons to be angry at me. I made him do it. It wasn't his fault.
Not his fault.
When it was waaaaaayy too late, I finally started listening to his actions. He ignored my birthday. He got angry about things that didn't matter. He put me in last place and blamed me for what was wrong in his life.
He said that he loved me, but his actions told a different story.
I started listening.
Are you listening?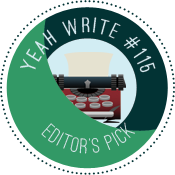 Subscribe to Blog via Email