31 Days to a Better Blog: Day 1
Jul 01
This month I'm participating in 31 Days to Build a Better Blog with the people at yeah write. I'll be posting daily (gulp!) and working to make my blog a little bit spiffier. If you're interesting in learning more, just click on the icon below.
Day 1
For Day 1 of 31 Days to Build a Better Blog, the assignment is to write an "elevator pitch" which is what you tell people when they ask what your blog is about. I have a quickie version that goes like this:
Hi! I'm Elizabeth Lee, and my blog is called The New Elizabeth. I write about the changes in my life after the end of a long-term marriage. I'm reinventing midlife.
My tagline is "Reinventing Midlife" doncha' know.
I'm also creating a longer version:
I'm Elizabeth Lee. Formerly a homeschooling mommy, I kicked my husband out of the house after 25 years of marriage but kept the the kids. I have five young adult children who are the joy of my life.

Most of the time.

Since getting divorced, I've embarked on a new, happier life. I am an amateur actor and photographer, and love books, music, & wine. I'm gluten intolerant and addicted to coffee. Like many people my age I'm still trying to figure out what I want to be when I grow up. I write about my life and my journey while I'm reinventing midlife.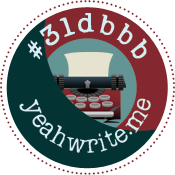 Subscribe to Blog via Email