31 Days to a Better Blog: Day 2
Jul 02
This month I'm participating in 31 Days to Build a Better Blog with the people at yeah write. I'll be posting daily and working to make my blog a little bit spiffier. If you're interesting in learning more, just click on the icon below.
The assignment for Day 2 is to create a list post.
The Top 5 Reasons I Enjoy Going to My Local Farmer's Market
5. The Signs
The farmers always have something to say and unique ways of conveying information
4. The Music
Live music. Every Saturday morning. These guys brought it.
3. People Watching
Young couples with babies in strollers and old couples whose babies are grown…
Rich and poor ~ Every race
Everybody's got to eat!
2. The Flowers
Pink ~ Purple ~ Yellow ~ White
And…the number one reason I enjoy going to my local farmer's market is:
1. The Food Of Course
I can support the local economy and help the environment by buying local products.
Have you been to your local farmer's market this summer?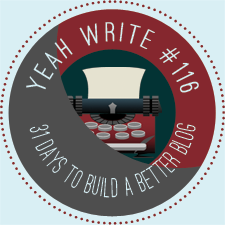 Subscribe to Blog via Email